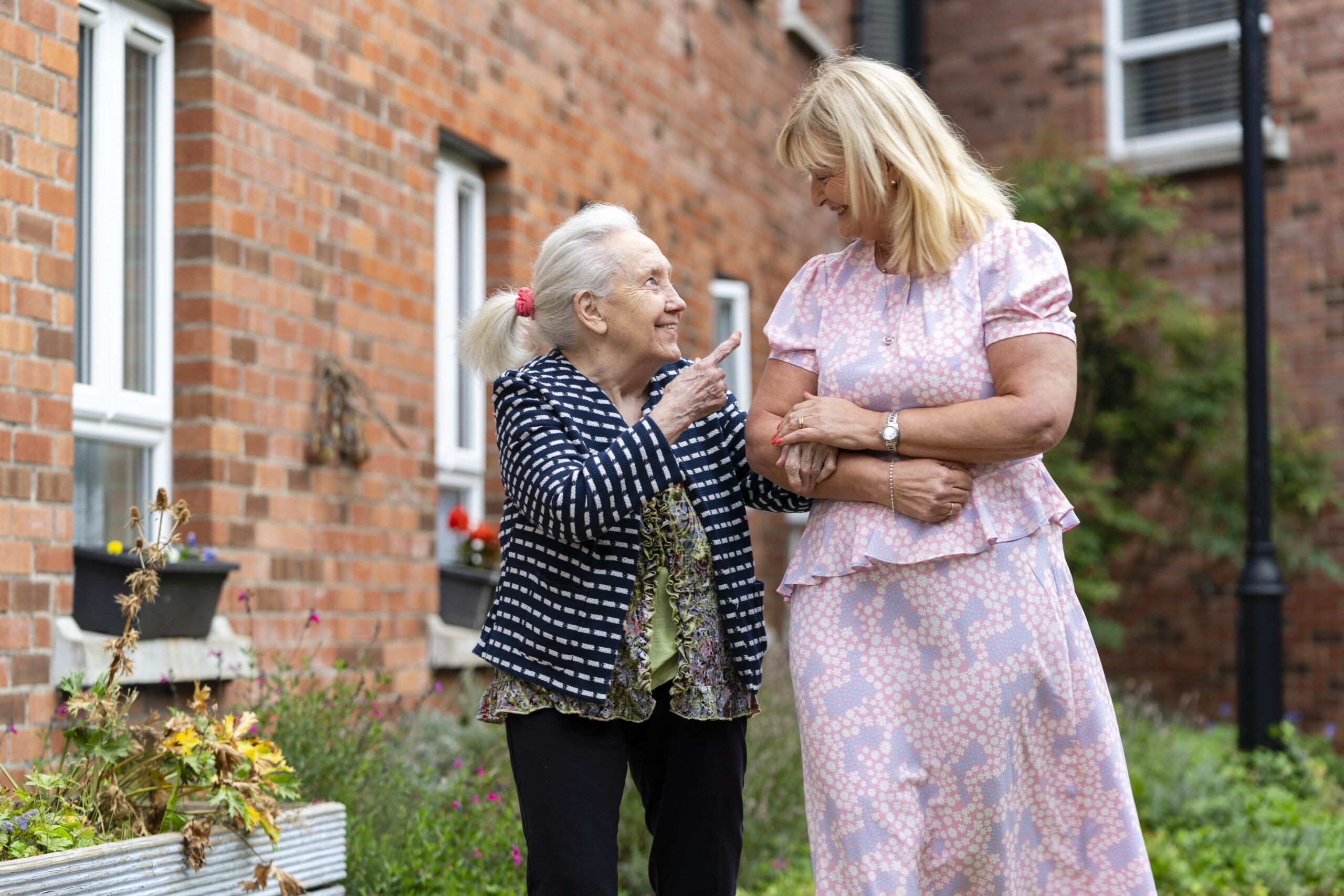 Undoubtedly admission to Residential Care is a major life event for people living with dementia and their family and friends. People who are living with dementia have unique and complex needs, and for many primary caregivers, despite their best efforts to provide care at home, a time will come when decisions need to be made regarding the need for long-term residential care.
Folds Housing's expertise is in area of dementia care where we see the person and not just their dementia. Our staff are skilled in understanding some of the challenges and dilemmas that having a diagnosis of dementia poses to the individual and who are knowledgeable in helping residents cope with responsive behaviour that might otherwise be considered as challenging.
Fold Housing emphasises the importance of psychosocial stimulation and meaningful activities for improved quality of life. We aim to prolong our residents' cognitive and mental skills through a range of daily activities, which enable them to exercise their minds and bodies.
We actively encourage our residents to express their personality when they live with us. Each resident has their own tailored care plan, which reflects their tastes, interests and individual care needs, and where possible they remain in control of their affairs.
Fold Housing know that people with dementia can become easily frightened and can get lost even in familiar surroundings. The design of our Housing with Care Schemes reflects an unobtrusive concern for safety and security, and the of use signage and cueing will help our residents to negotiate the environment.
Our staff continuously build on their knowledge of dementia and attend structured training programmes to help them to provide the best and most appropriate care and support for people living with dementia. We are dedicated to enhancing the lives of all the residents.
We understand that it is not only the person living with dementia that is affected by this condition; it's their family, friends and carer givers as well. We will offer you the support you need as your loved one progresses through living with Dementia.
Viewings of our care schemes will be facilitated by the Person in Charge (Scheme Manager-PIC) Families and potential residents will have the opportunity to have queries relating to the service clarified at this time.
Learning More About Dementia
We probably all know a little bit about dementia, but did you know it wasn't a natural part of ageing? We encourage you to read Living Well with Dementia and to download the factsheet Practical Tips for Living Well with Dementia available from The Alzheimer Society of Ireland
What is dementia?
Dementia is an umbrella term which describes several conditions which cause damage to brain cells. Alzheimer's Disease is the most common type of dementia. The word dementia describes a set of symptoms that may include memory loss and difficulties with thinking, problem-solving or language.
Different types of dementia can lead to different experiences and problems for the person with dementia and their loved ones.
Everyone's experience is different and not everyone will experience all the symptoms, some people may experience a mix of two types of dementia.
Common symptoms include:
Memory loss
Difficulty thinking things through and planning
Problems communicating:
Being confused about time or place
Sight and visual difficulties
Mood changes or difficulties controlling emotions.
Insights into Dementia
The Alzheimer Society of Ireland runs a 5-week course aimed at supporting family members who are caring for loved ones with Dementia. The course consists of five sessions which are held on a weekly basis, usually in the evenings. Each session lasts about 2.5 hours. Follow the link below to find out about the next course and apply to attend:
http://www.alzheimer.ie/Services-Support/About-our-Services/Training.aspx
You can find out about the Alzheimer Society of Ireland's services by clicking the link below.
http://www.alzheimer.ie/services-support.aspx
The Alzheimer Society of Ireland
You can call the Alzheimer National Helpline on 1 800 341 341
or email helpline@alzheimer.ie
Lines are open six days a week: Monday to Friday 10.00am-5.00pm and
Saturday 10.00am to 4.00pm
Useful Links
http://www.alzheimer.ie
http://www.alzheimer.ie/Get-Involved/Dementia-Friendly-Communities.aspx
http://www.sonasapc.ie
Acknowledgement
Fold Housing is grateful to The Alzheimer's Society of Ireland for permission to use the above information taken from their website.